Our social events and ladies' days are famous for the flamboyant and colourful style which the ladies bring to each race day but in terms of men's style we've taken advice from our fashion partner Remus Uomo on what men should wear to the races.
Down Royal is a relatively relaxed course in terms of how 'formal' men should dress for their day at the races. As a rule, if you are attending as a guest in one of our hospitality suites the dress code is more formal but as a general admission visitor, smart casual is perfectly acceptable. However, whether it's formal or smart casual, you should always dress to impress!
Typically at our spring and summer events men are bold and forthright with their style choices and with their use of colour. So don't be afraid to make a style statement, our events are as much about celebration, fun and socialising as they are racing!
What is smart casual?
Smart casual isn't a straightforward dress code – it's a spectrum of outfitting which can be hard to gauge for the uninitiated.
Here are three ways to wear smart casual thanks to our friends at Remus Uomo Victoria Square.
The Dressed Down Suit
On the edge between formal and smart-casual, this look dresses the look down by dropping the waistcoat and pairing with a polo shirt or one of this season's trends – a bold print shirt.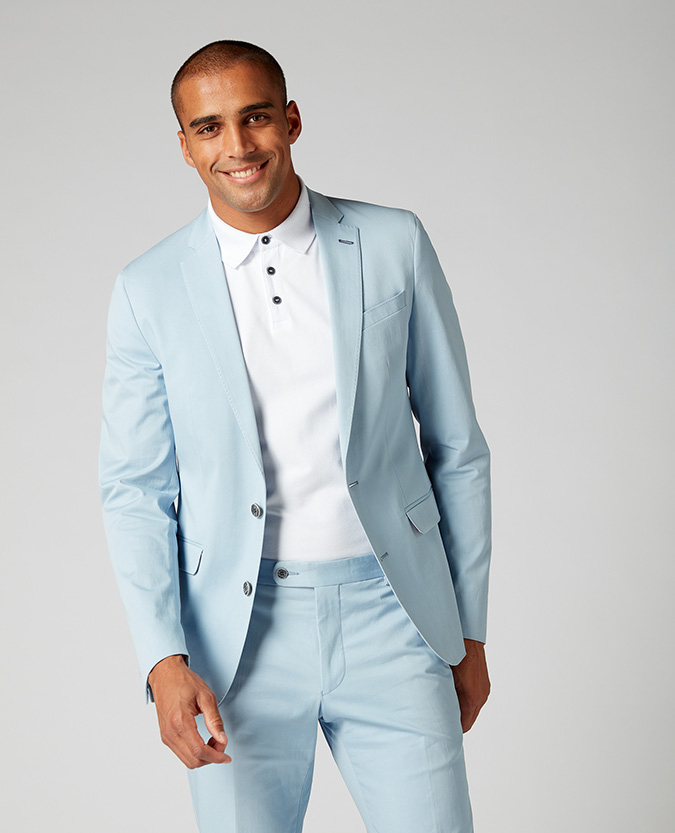 ---
The Statement Blazer
The blazer is an essential item in every man's wardrobe thanks to its versatility. Make your blazer the focus of your outfit with this houndstooth blazer in on-trend colour, berry. Pair it with white knitwear and co-ordinating chinos for a subtle statement outfit.
---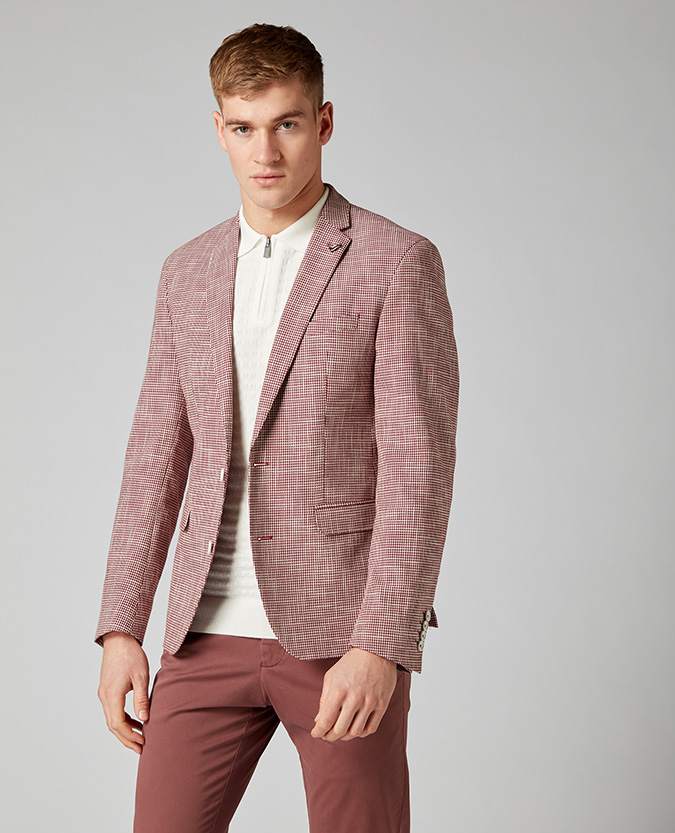 ---
What is formal?
The lines between casual, smart casual and formal are continually blurring but in general formalwear refers to suiting for men. A suit can be worn with an open collar shirt or a pair of trainers in a more casual style. But for a formal look (which you'd require for the hospitality areas at Down Royal) you should think of a full formal outfit being suit jacket, trouser, optional waistcoat, formal shirt and tie.
As we mentioned above race-day style is all about making a statement, so use this as your chance to really show off your style and opt for something bolder and brighter than you might normally wear.
This season see the introduction of a range of pastel coloured suits at Remus Uomo, available in co-ordinating sets of plain and patterned fabrics to allow the wearer to make an individual style statement.
The Style Adventurer
Try soft pink suiting and pair with a bright silk necktie and pocket square for a confident summer-ready outfit
---
The Timeless Dresser
If you want to keep your look more cross-seasonal, combinations of navy and grey are a good choice. Keep it timeless and add interest with check designs such as this mix and match suit.
Whatever you choose to wear for your day at Down Royal, remember that dress to impress is always the dress code and you're more likely to stick out for underdressing than being bold in your choices!
Thanks to the team at Remus Uomo Victoria Square for their advice, check them out on Facebook or click the images above to check out the suits mentioned!